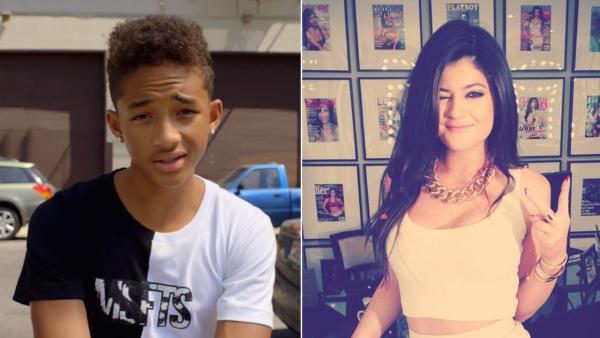 The 14-year-old actor and performer, who is Will Smith's son, recently opened up about his relationship with Jenner, who is known for her role on "Keeping Up With The Kardashians." The pair, who have sparked dating rumors in recent months, are reportedly … just good friends.
"I was in L.A., we were all hanging out," Smith told Britain's Wonderland Magazine. "Then I went to New York and she came too, and then she came here and surprised me, so that's pretty baller. She's one of my best friends. It's pretty awesome."
Jenner, who is known for being the half-sister to Kim, Kourtney and Khloe Kardashian, hasn't directly addressed the dating rumors, but appeared to counter the reports, Tweeting on April 15: "Every time I hang out with a guy I'm apparently dating them … I don't understand."
Last month, the pair were spotted and photographed on a lunch date at a Cafe Nero restaurant in London. Smith was there to support his friend Justin Bieber's tour as an opening act.
The 15-year-old model and Smith do apparently share some friends, according to their social media accounts. Smith talked to the British outlet about his clothing brand, MSFTS, which he works on with his friend Moises Arias — who Jenner can be seen frequently Tweeting. She also appears in a photo sitting alongside Smith on Arias' official Twitter account.
Smith is currently focusing on his music, admitting in his interview that if people want to know details about his life, all they need to do is look for the answers in his music.
"It's really like a journey into my life — if you listen and pay attention to the lyrics," he explained. "People like to hear honest things, and that's what really makes an artist."